How startup founders can benefit from mentors
As they navigate the challenges of starting a business, startup founders are about to face several obstacles, many of which may even discourage them from continuing.
However, startup founders can gain a competitive advantage by incorporating mentors into their training programs, either for their team or for themselves.
Mentors can guide them, offer alternatives to problems that previously seemed unsolvable, or lay the foundations for the development of a well-organized work environment.
The Abu Dhabi Early Childhood Authority (ECA) is a government entity overseeing the ECD sector in the region. It works with service-providing entities, ensuring they have the right policies and legislation to encourage holistic early childhood development. Furthermore, its main accelerator program, Anjal Z, has supported 31 early and growth-stage startups.
We discussed with Dr Yousef Alhammadi, Executive Director of ECA, and he shared his insights on how startup founders can benefit from mentors. Dr Yousef believes that one-to-one mentorship with industry experts is essential for equipping startups with the tools to keep up with competitors and surpass them.
First, tell us briefly about The Abu Dhabi Early Childhood Authority (ECA), your main responsibilities, and how technology is used to solve ECD challenges.
The ECA is a government organization responsible for overseeing the early childhood development sector in Abu Dhabi. Our mission is to create an integrated and comprehensive ecosystem within the region for Early Childhood Development (ECD). We aim to achieve this by working with service-providing entities, ensuring that they have the right initiatives, policies, and legislation to encourage holistic early childhood development and promote collaboration to help all of Abu Dhabi's young children flourish. We work in four key pillars: health and nutrition, education and early care, child protection, and family support.
As the Executive Director of the Knowledge and Impact (K&I) Division of the ECA, my main responsibilities include launching innovation streams to direct investments in the early childhood development space, building a five-year research strategy, and creating impactful collaboration among partners using an insights system that is derived from cross-sectoral child data.
One of our main initiatives is Anjal Z. This program invites a range of startups, including edtech, famtech, and health tech companies, to localize their solutions to solve the major ECD challenges within the area.
Meanwhile, our Child Insights System leverages technology to obtain cross-sectoral data for the ECA to generate macro-level insights to understand state-wide ECD challenges, develop informed policies for the Emirate, identify children in need, and enhance the day-to-day support offered by practitioners. The system aggregates multiple administrative data sets and involves key government agencies who jointly assess the trends and act upon the outcomes with coordinated measures. This ensures that all relevant actors receive the same insights and are aligned on enhancing children's well-being.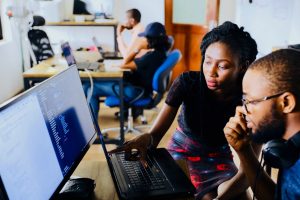 Do you believe startup founders can gain a competitive advantage when incorporating mentors into their training programs?
Absolutely. In my experience, mentorship enables startups to gain industry, local and cultural knowledge that gives them a competitive edge within the region that they are operating in. An experienced and competent mentor can offer entrepreneurs advice, support, and expertise that will help sharpen their ideas, improve decision making and streamline operations. Mentors can also act as a coach in other business-related activities, such as developing marketing plans, managing finances, and locating product markets. Ultimately, these benefits will significantly boost the likelihood of success.
How can governments encourage the booming tech sector to solve social challenges by offering mentorship programs for tech startup companies?
Governments increasingly realise the importance of collaborating with startups early on and supporting them in several ways. Providing mentorship programs and promoting them is a fantastic way in which governments can achieve this. It can bridge knowledge gaps whilst assisting startups to adapt and adopt approaches early on to help them succeed in their journey.
Meanwhile, governments also benefit. By boosting the accessibility of mentorship, governments will also encourage future entrepreneurial talent to develop within the region, which would consequently result in various economic benefits, such as economic growth, decreased unemployment, and improved innovation. Through our Anjal Z Techstars Founder Catalyst program, we share existing challenges, provide relevant local data, grant, support local pilots and extend our networks to help selected startups establish their operations in Abu Dhabi.
Based on your experience, what are startup founders' main challenges in starting their businesses?
Startup founders usually need more expert guidance, access to relevant networks, and market validation. Additionally, if they want to enter a new market, they need support in adapting to the local environment, being open to learning, and embracing cultural uniqueness. Through our Anjal Z Techstars Founder Catalyst program, we provide ample support to help them understand the local culture and legal and regulatory compliance ecosystem, such as local tax laws, employment regulations, and industry-specific regulations.
We provide them with the market knowledge to identify opportunities and assess competition to help tailor their products or services to the local market. Access to networks and resources is crucial, and we provide them access to our connections, who provide valuable guidance, funding, and market insights. The program also provides financing and investment and helps them establish their operations in Abu Dhabi.
How has one-to-one mentoring impacted startups in Abu Dhabi?
In our experience, providing one-to-one mentoring has helped startup founders develop the critical skills required to navigate their market space. For example, one of the alum startups shared that the mentors chosen for the program were top-notch and available to answer his questions, help him navigate challenges, and provide valuable insights on product-market fit, financial management, etc. Another startup initiated their pilot based on the advice of their mentor and has been successful.
Hearing these stories gives me hope and fortifies my belief that this successful recipe can be replicated easily in any market through meaningful mentorship opportunities for these startups.
Even though mentors are constantly gaining popularity, many still need to be more concerned about whether their contribution is crucial for a startup's business. How can this change?
Ultimately, the more people are exposed to the benefits of mentorship, the more popular it will become. It needs to become a more significant part of the public conversation, which can be achieved through effective public relations and communications work.
At the ECA, we look to promote mentorship by pointing to the success of the startups that are signed up to Anjal Z. For example, I recently heard a success story from one of the participating companies from our Cohort 3. The entrepreneur was working closely with one of the mentors and gathered valuable industry insight from the experiences shared by the mentor enabling the startup to move up to the next stage of growth. Their bond became so strong that the mentor recently agreed to join the company as their new Strategic Advisor. This growth is only possible with the mentorship element.
Admittedly, government-provided mentorship programs can be hugely competitive, and those that miss out might be tempted to reject mentorship altogether, claiming that the financial cost of hiring a private mentor would be too high. Interestingly, there are new mentorship possibilities with the emergence of AI-powered tools like ChatGPT. ChatGPT is designed to boost mentor-mentee engagement in a more meaningful way. It uses a conversational interface to facilitate real-time conversations between the two parties, helping create a more natural and interactive experience and allowing for a more effective exchange of information.
Did you find this helpful?
2 people found this helpful